The School of Informatics and Mathematical Science participates in the Kyoto University Open Campus to enable students who are hoping to study at this School to experience academic lectures.
Schedule
The Open Campus during fiscal 2009 is scheduled in August.
Please visit the following web page for more details.
Open Campus (Kyoto University)
Open Campus handouts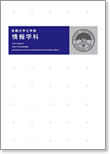 The handouts provided at the Open Campus are available in PDF format.

School of Informatics and Mathematical Science, Open Campus Hand Outs 2014 (38MB)